Basildon Purely Orthodontics practice
Contact
Telephone:

01268 556633

Please call us to book an appointment.

Email:

dental.practice7029@nhs.net

Appointments cannot be made or checked by email and such emails will not be answered.

Please contact us by email only for any general enquiries or problems. Please call the practice for all of your appointment queries or alternatively leave a clear message on our answer phone with your telephone number.

Address:

Purely Orthodontics,
Bridge House,
134 Sandon Road,
Pitsea,
Essex,
SS14 1TS
Opening hours
| | |
| --- | --- |
| Monday: | 9am to 5.30pm |
| Tuesday: | 9am to 5.30pm |
| Wednesday: | 8am to 4pm |
| Thursday: | Closed |
| Friday: | 8am to 4pm |
For emergency out-of-hours contact, please call 0845 602 1809. This is available for existing patients in cases of only serious orthodontic emergencies.
Arrange a consultation
If you would like to arrange a consultation for yourself or your child please use our self referral form for both NHS and private treatments.
Nearby towns and areas
Other practices
Patient feedback
We really welcome your feedback at all times whether it be good or bad. We will use this feedback to improve our services and are grateful for any of your comments.
If you are a patient and would like to rate this practice, please fill out a quick 5-minute patient satisfaction survey form to make any comments, suggestions, complaints or congratulations.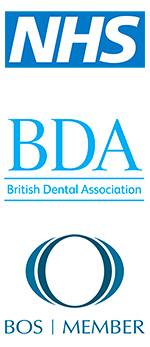 Parking: Ample, free parking is available conveniently near the practice.
Meet the Team
Orthodontists and Clinicians
Dr. Surrinder Kumar (Mr) is the principal orthodontist at Purely Orthodontics. He has over 20 years of experience in running dental and orthodontic practices. Dr. Kumar is a specialist in orthodontics and qualified as a specialist at the Royal University of Copenhagen (Denmark) in 1997 and he qualified as a dentist at the Royal London Hospital Medical College in 1986. Dr. Kumar enjoys all aspects of orthodontics and believes all children should have the best treatment whether it be private or NHS care.
See General Dental Council registration (61926)
Dr. Hardev Steven Singh Kehlar (Mr.) is a partner at Basildon Purely Orthodontics. He qualified as a dental Surgeon in 1992 at the University of Glasgow and has been working with Dr. Kumar in Orthodontics now for 10 years. Dr. Kehlar really enjoys seeing the dramatic improvements made with orthodontic treatments. He also runs a very successful dental practice (Pitsea Dental Centre) and has an excellent reputation for being a caring and devoted dental practitioner.
See General Dental Council registration (67996)
Dr. Vipul Kurani (Mr) is an experienced practitioner with 15 years of experience. He qualified as a dentist at the Royal London Hospital in 1993 and gained his MSc. in Orthodontics in 2011 at the University of Warwick. Dr. Kurani enjoys all aspects of orthodontics and finds it rewarding to produce beautiful smiles which have a big impact on his patients lives.
See General Dental Council registration (69850)