Northampton Purely Orthodontics practice
Contact
Telephone:

01604 710090

Please call us to book an appointment.

Email:

Appointments cannot be made or checked by email and such emails will not be answered.

Please contact us by email only for any general enquiries or problems. Please call the practice for all of your appointment queries or alternatively leave a clear message on our answer phone with your telephone number.

Address:

Purely Orthodontics,
Kingsthorpe Clinic,
Welford Road,
Northampton,
NN2 8AG
Opening hours
Monday:
9am to 5.30pm
Tuesday:
9am to 5.30pm
Wednesday:
9am to 5.30pm
Thursday:
9am to 5.30pm
Friday:
9am to 5.30pm
Note: Closed for lunch from 1.30pm-2pm.
For emergency out-of-hours contact, please call NHS Service on 111. This is available for existing patients in cases of only serious orthodontic emergencies.
Arrange a consultation
If you would like to arrange a consultation for yourself or your child please use our self referral form for both NHS and private treatments.
Accreditation

Member of BDA (British Dental Association) Good Practice Scheme.

Accredited by Investors in People until 2021.
Nearby towns and areas
Other practices
Patient feedback
We really welcome your feedback at all times whether it be good or bad. We will use this feedback to improve our services and are grateful for any of your comments.
If you are a patient and would like to rate this practice, please fill out a quick 5-minute patient satisfaction survey form to make any comments, suggestions, complaints or congratulations.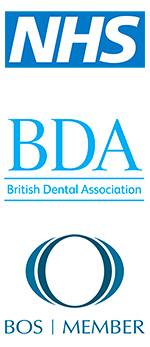 Parking: Ample, free parking is available conveniently near the practice.
Find us: We are located on the Welford Road, above the Redbrick Day Nursery, on the first floor and we are next to Wardington Court (retirement homes). We are three buildings away from the Texaco Petrol Station (if you are facing Texaco Petrol Station, we are the third building to the left of it).
Meet the Team
Orthodontists and Clinicians
Dr. Surrinder Kumar (Mr) is the principal orthodontist at Purely Orthodontics. He has over 20 years of experience in running dental and orthodontic practices. Dr. Kumar is a specialist in orthodontics and qualified as a specialist at the Royal University of Copenhagen (Denmark) in 1997 and he qualified as a dentist at the Royal London Hospital Medical College in 1986. Dr. Kumar enjoys all aspects of orthodontics and believes all children should have the best treatment whether it be private or NHS care.
See General Dental Council registration (61926)
Dr. Jaime Cesar Moreira Alves (Mr). Following graduation in 1990, Dr. Alves undertook further training in Orthodontics. Initially, at the prestigious New York University College and later at the Medical School of Porto University, where he completed a Master's Degree in Orthodontics. He was accepted into the GDC (General Dental Council) specialist list of Orthodontics.
Dr. Alves is very passionate about producing great results and enjoys all aspects of Orthodontics.
See General Dental Council registration (244654)